Membership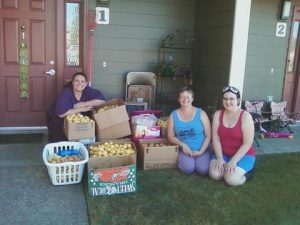 Membership requirements are easy.
Please read this whole post before you click the links. It is important that every step is completed to ensure speedy membership approval.
Please note: To fulfill the requirements of our liability waivers, volunteers must fill out the membership application to join.
We do not require proof of income or financial information to be a member. Our requirements are:
Read our Gleaner Handbook (Please click this link first to familiarize yourself with our rules, to be sure you are willing and able to do what we do.)
Fill out the Membership Application.
Join the email list or Facebook group to receive glean and buy information as well as general group updates. Please complete the Membership Form first. You will not be approved to join the email list or Facebook group without a completed Membership Application. You MUST request to join either group, you will not be added automatically.
Do one activity a month such as:

hanging flyers or business cards,
run or help organize an information booth,
helping with site maintenance or write a blog post,
leading or attending a glean,
coming to or organizing monthly meetings/activities,
or…? We are open to all skill levels and ideas. It takes all of us to run this volunteer group!
Through our efforts, food that would normally go to waste is made available to those who are hungry and/or without access to fresh, locally grown items.We reduce food waste and help our community be more self-sufficient and well fed.
Everyone in the group are volunteer gleaners. We receive some of the harvest, but not all. Half of the harvest goes to the donor unless requested otherwise. The remaining half is split between the volunteers at the glean.
We may bring home and offer extras from our share to the group but please do not ask or expect others to provide items to you from gleans. This is not an In Search Of (ISO) group or a place to ask for handouts. We are not permitted to offer or share gleaned items with friends, family, or the community at large for liability reasons, so please be sure if you have anyone interested in benefiting from what our group has to offer, that they join the group officially and stay active, contributing members.
This group can only keep going with your contribution and participation. Please help us make this group something you are proud to be a part of and can recommend.