What are Gleaners?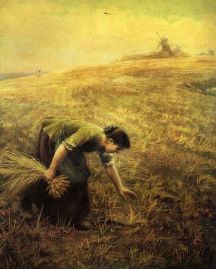 A "gleaner" is traditionally someone who collects leftover crops after they have been commercially harvested, or on fields where it is not economically profitable to harvest. Today a gleaner is someone who collects excess fresh foods from a variety of sources in order to provide it to those in need.
Eugene Area Gleaners is run by dedicated volunteers who want to connect hungry people with available food and to reduce local food waste. We have an expanding roster of donors – farmers and private property owners –  that request we glean their extra produce.
These gleans happen at all times of the year but mostly during mid to late summer and early fall. During this time we can become extremely busy with gleans happening at all times and all days of the week.
Volunteers are trained on proper harvesting techniques by Glean Leaders on-site. Gleaning is done based on the donor's guidelines-unripe fruit may be picked at donor's discretion. Gleaned produce is split 50/50 with the donor, unless requested otherwise. The remaining produce is divided between the volunteers. Liability is covered by the Bill Emerson Good Samaritan Food Act.
Occasionally the group will go in together on a bulk buy in order to get group discounts. These buys are separate from gleaning and are a side benefit to being a member of Eugene Area Gleaners. We sometimes receive donations of free items for distribution to our group members as well.
Due to the unpredictable nature of glean requests we are unable to provide food boxes or have "adoptees". We do not maintain a storehouse or warehouse of gleaned goods. We are not an emergency food resource.
Want to become a Eugene Area Gleaner?
Welcome! Membership is free and we are always looking for more volunteers. Please read the Gleaner Handbook and check out the Membership page. Due to liabilities and our agreements with donors it is very important potential volunteers understand what is expected of them. Inability or refusal to follow group rules will result in dismissal and permanent banning from group activities.