I'm going to be starting a series of blog posts on how to stretch your food dollar, and how to use your pantry to its fullest extent!  I'm going to start with how many meals you can make out of one turkey; the reason why is, well, it's Autumn, and Thanksgiving is coming up soon, and turkeys are available in abundance right now! In our case, this is one of our home-raised turkeys. We keep some for ourselves and sell the rest. This particular one was the smallest, and I would prefer my customers get to keep the larger ones if they would prefer. This particular turkey was about 10 pounds.
First of all, some turkey buying tips if you're buying turkeys in the store!  
If you live near a Winco; there is an option that if you buy $100 worth you will get a free turkey of your choice! Before we raised our own turkeys this is what we would do. This even works for folks on SNAP. It's an excellent deal; so if you are doing your weekly or monthly grocery shop for your family this time of year, this promotion runs for the month of November at WinCo.  Other stores that do something similar: Fred Meyer, Shoprite, HyVee, Meijer, Albertsons; call your local store to find out what promotions they have!
If price is your main concern, the least expensive way to buy a turkey is to buy a frozen UTILITY grade turkey. A utility grade turkey is one that may have a missing part, like a thigh or drumstick. It's going to be the best value for the money.
Turkeys are cheaper after Thanksgiving, so if you want to fill your freezer after the holiday so you have some available throughout the year, this is the best time to get them; and if you cook Turkey for your winter holidays, then you'll have one ready for that for a less expensive price. This is also great if you like to buy meat in bulk to can or make jerky.
Turkeys are also cheaper earlier in the few weeks before Thanksgiving, so if your local grocer doesn't have the 'free turkey for such and such amount of groceries' deal, then try to buy your turkey earlier!
It may seem like you're paying more, but if you buy a larger turkey they have a larger ratio of meat to bones. For example, my little 10lb turkey is going to be more bones than meat, and if I had bought it in the store it wouldn't have been as valuable. (Keep this in mind if you're following tip #1!)
Cooking turkey yourself (if you have the ability to do so) is always less expensive than pre-cooked turkeys.
Okay! Now for the 'Meat' of this post (pardon the pun); how many meals can you get out of a turkey
In my case, again, we're using our small 10 lb home raised turkey. I brined and roasted the turkey for its first initial cook. (Stay tuned for a post on how I brine and roast turkey!)  I love brining because it keeps the turkey moist no matter how old or weird it is (when you cook home raised meat, sometimes… yeah). And here we go!  Keep in mind this is how our family eats. We are big on leftovers, and using everything up as much as possible. You will probably find that you have some amazing recipes for your leftover turkey! Also stay tuned, as Eugene Area Gleaners is coming out with a cookbook soon!
Meal 1: Roast turkey
I broke the turkey down into breasts, thighs, legs, wings, other bits, and the carcass. I served my family the turkey breasts and wings for supper. (My husband couldn't wait and was eating pieces before I even put them on the table, ha ha!). What we did not eat that evening (most of it honestly) went into a bag in the fridge to be used in other meals.
The carcass immediately went into a stock pot to be made into turkey soup and bone broth.
Meal 2: Enchilada Casserole
Bless my husband for making us dinner this evening as I was running around all over the place. He layered corn tortillas, beans, shredded turkey (from the leftovers in the fridge), enchilada sauce and shredded cheese, and baked it in the oven until everything was hot and bubbly. You could also use flour tortillas, or even make turkey lasagna!  If you don't eat grains, you can use Zucchini slices for the layers. Lots of possibilities!
Meal 3: Spanish Rice with turkey
We used the leftovers from the enchilada casserole mixed with cooked rice and then baked (with a bit more cheese added on top) to make spanish rice.
Meal 4: Lunch Burritos and Turkey Sandwiches
The kids wrapped up the leftover spanish rice / enchilada casserole mix to make burritos for lunch the next day. Leftover pieces of turkey in the fridge were used by the grownups in the family to make turkey sandwiches (with sliced tomatoes and cucumbers from the garden) for lunch the next day.
Meal 5: Turkey Ramen
We used the broth from the carcass mixed with leftover turkey pieces from the fridge and frozen chinese cabbage we had grown in the garden plus peas and corn from the freezer, and added brown rice ramen noodles plus spices to make a really delicious noodle soup!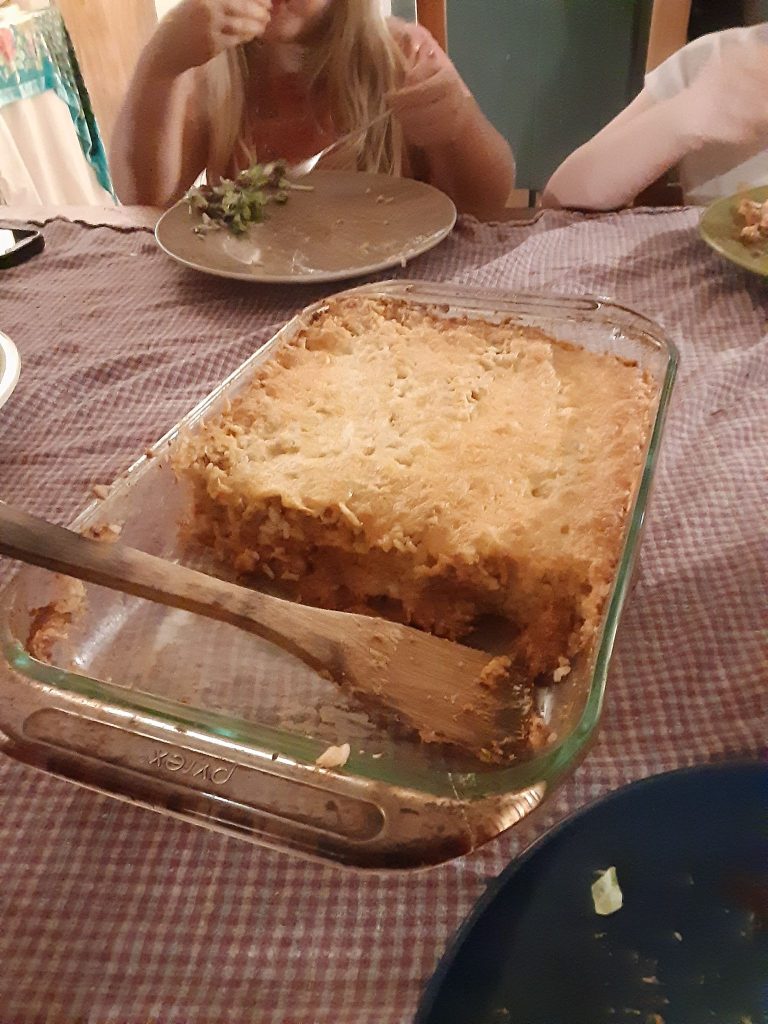 Meals put ahead and extra!
From the carcass that we put into the stock pot, I pulled all of the useable meat off the carcass and made:
5 quarts of turkey soup with added veggies (in this case I had carrots, celery and potatoes on hand), and some of the broth, and I canned them in the pressure canner (see this article for how to pressure can).
I then put the bones back into the stockpot to make bone broth, and came away with 7 quarts of bone broth, this will be used in other meals where broth is required, or as soup bases, or by itself for a healthy broth drink.
So that's At least 10-20 meals from one 10lb turkey for our family! Imagine how much you can do with an even larger turkey!
NOTE: We will be breaking down the bones after making the bone broth for use in our garden. Bone meal is very good for your plants. Many people do not compost bones, but if you break them down enough like this, they are excellent for composting. And you will have not put out any waste from this turkey! Win Win!
(Also note! I will be adding some pictures as I have time).